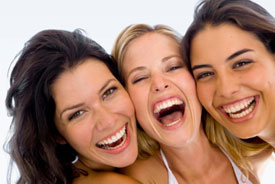 With the holiday hustle and bustle on the horizon, along with a likely lengthy to-do list, you may want to add "de-stress" to your list.
On Tuesday, December 4th at 6:30 p.m., Buckner Chiropractic Center will be hosting a Ladies Night Out, a public event, here at the practice. We are located at Richland Plaza, 7185 Hwy 72 W Suite B in Madison.
Dr. Jennie will be inviting a variety of vendors so you can purchase makeup, candles, Pampered Chef merchandise and more. Just think—you can get some or all of your holiday shopping done in one evening! We also will feature the following:
A wine tasting

– Enjoy light snacks and some delicious wines that are sure to put you in a relaxed mood.

Giveaways

– We have some exciting giveaways that will add an extra dose of seasonal cheer.

Shopping

– Lime Life makeup, Golden Canyon Candles, Pampered Chef merchandise and more.
We would be honored if you would fit us into your holiday calendar of events, and be sure to invite a friend.
Please let us know if you will be attending on the 4th by calling 256-895-0606.